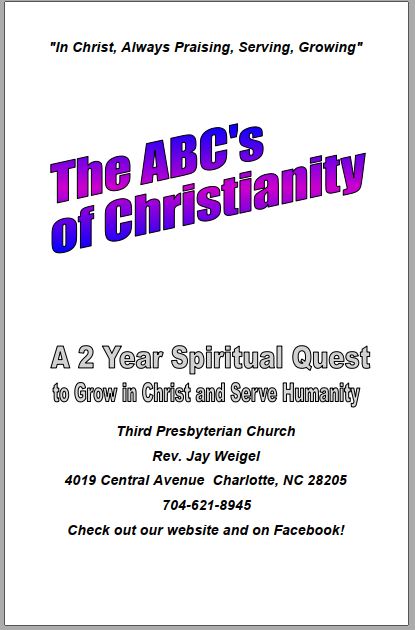 From a very early age, children are taught their ABC's. The ABC's are fundamental to every literate society. Similarly, the ABC's are a good way to organize the teachings of the church.
Third Presbyterian Church will embark on a 2-year journey to get to know God's word and respond more deeply in our calling to follow our Lord Jesus Christ. For the next two years, each month will have a different letter of the alphabet assigned to it.

Click here to View The ABC's of Christianity Book.
Each week will have a designated theme. Each day will have two Bible readings on that theme. Everyone is encouraged to make these Bible readings a part of your daily lives.
Fhe sermon for each Sunday will be from one of the Bible readings from that week and the subject to be preached will be the theme for the week.
The Wednesday Morning Share Life Bible studies will also study the weekly theme. These studies start at 10:30 AM.
The goal is that every Christian will have the opportunity to grow in their Christian faith and seek to become more like our Lord Jesus Christ in how we live, serve and love others.
"What does the Lord your God ask of you but to fear the Lord your God, to walk in obedience to Him, to love Him, to serve Him with all your heart and with all your soul.... God defends the cause of the poor and the needy. He loves them and gives them food and clothing." (Deuteronomy 10:11-13, 18)