Advent Wreath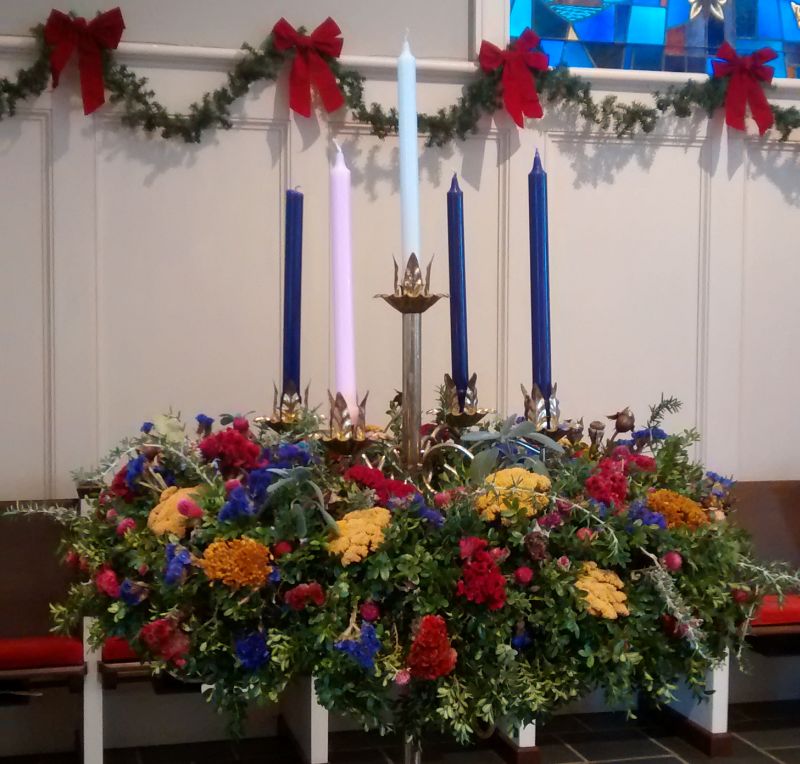 What is Advent? It is waiting to celebrate the birth of Jesus. It is a time when we get our heart ready for the birth of the baby who grew into a man and died for us so that we might live. We use this as a time to be thankful.
Where did it start? Traced to Scandinavia and later the Germans made it a Christian symbol of Advent. It then spread throughout Europe and on to the United States and other countries.
Why is it round? Because with Christ there is no beginning and no end, the never-ending circle.
Why do we use greenery? Evergreens symbolize everlasting life in Jesus Christ. If we believe in him we will never die.
Why do we use purple and white candles? Purple signifies royalty and the waiting for Christ. The white candle stands for purity and is referred to as the Christ candle. The purple candles are lit one at a time on the four Sundays before Christmas Eve. The white candle is lit on Christmas Eve to indicate that His presence is among us.
Why do we use herbs in our Advent Wreath? Many years ago people depended on herbs to flavor food and they were used as medicine. Some of the herbs are referred to as manger herbs, and they all have a meaning.
Rosemary: For remembrance. There is a story that when Mary and Joseph were making their trip to Bethlehem they stopped to rest and Joseph put Mary's coat on a Rosemary bush and the flowers were white but when he removed her coat the flowers had turned to blue in Mary's honor.
Sage: Herb of immortality and domestic happiness.
Lavender: Beloved of Mary. Represents purity and virtue.
Thyme: A manger herb. A symbol of bravery associated with the Holy Child who would endure much suffering. It grew abundantly in Palestine on rocky gravely soil and was cut with other grasses for the manger. Its antiseptic fragrance would keep the bugs away and gave the bed a clean sweet smell.
Rue: Herb of grace. Symbol of repentance. Also used: Rosehip, Globe Amaranth, Stance and Yarrow.